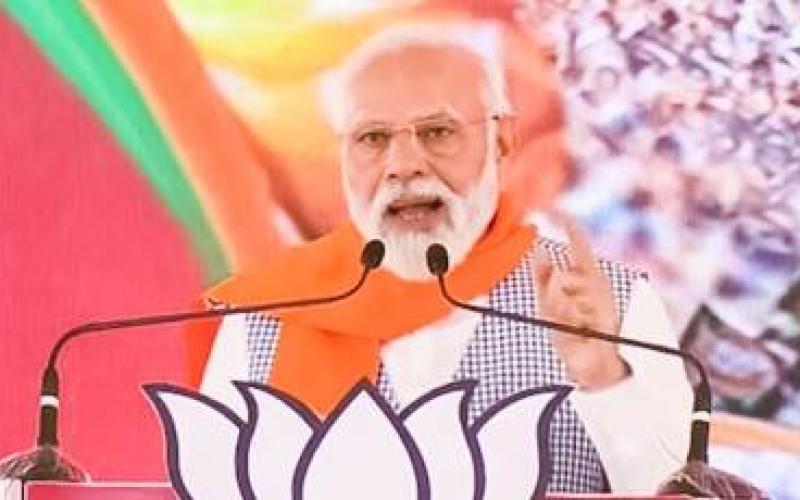 National Desk:
The Karnataka election battle is approaching.  Voting for the 224-member assembly will be held on May 10 and the results will be announced on May  All the opposition parties have tightened their waists and a round of fighting has begun.  Prime Minister Narendra Modi on Sunday lashed out at the Congress on the second day of his visit to Karnataka.  At a public meeting in Kolar, PM Modi described the Congress as a scrap engine and said it could not develop.  Rapid development can only be achieved by the double engine government of BJP.
 "I am waging a war against corruption," Modi said.  The most affected and excited are the leaders of the Congress party.  They can't stand it and are threatening me.  He said they should have been discussing evolution, instead they were discussing snakes and their venom.
 "I'm not sad about it," the PM said.  The snake remains like an ornament on the neck of Lord Shiva.  I have found Lord Shiva in the people of this country.  "I am happy to be a snake on your (people's) neck," he said, slamming the Congress.  You are like Shiva to me.  Please bless me on May 10th to keep the leaders talking about it away.  Congress president Mallikarjun Kharge had described PM Modi as a poisonous snake.
 He alleged that the Congress party did not initiate anti-corruption programs during its tenure as corruption was in every scheme of the party.  "The royal family has embezzled thousands of crores of rupees," he said, referring to Sonia Gandhi and Rahul Gandhi, without naming them.  Those who need to stay in jail are out on bail.  "Since coming to power, we have seized more than Rs 100,000 crore from corrupt officials," he said.  We have taken decisive action against corruption.  The BJP government has built toilets in more than 100 million households in the country.  "It's made possible by your vote," he said.
 
Log in to post comments
6 views